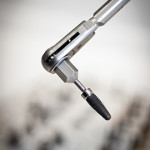 We offer the most innovative cleaning technology and advanced support resources in the medical industry, with a variety of machine configurations from which to choose, acute market knowledge and extensive applications expertise. Our ability to adapt to your specific cleaning needs is unparalleled.  If one of our standard systems won't completely fit your needs, we work with you to engineer a custom design that will be the very best option to maximize your cleaning efficiency.   Whether you are cleaning orthopedic devices, surgical instruments such as scalpel blades and needles, we have what you need to optimize your manufacturing operations, by cleaning tight-tolerance parts while achieving increased productivity.  Ultrasonic cleaning is dynamic enough to remove tough contaminants, in both hard-to-reach inner channels and heavily soiled external surfaces.  Since there are no harsh chemicals used, it is safe for the most delicate objects which are easily damaged by other cleaning methods.
---
Magnus Engineered Equipment is ideal for cleaning and maintaining:
Steel and specialized Wire for new Medical Equipment applications
Needles
Titanium implants
Titanium nuts and bolts
Screws
Stainless steel hardware
Medical tools
Material handling of delicate parts
Magnus Engineered Equipment is ideal for removing:
Alkaline residue
Aluminum oxide
Carbon
Coolant
Copper Oxide
Corrosive materials
Ferric Oxide
Fingerprints
Fluxes
Glues
Grease
Lapping compound
Lapping oil
Lubricants
Machine fines
Magnesium Oxide
Metal chips and fines
Oil
Organics
PO4
Rust Inhibiting Oils
Sand particulates
Shop Soils
Solvents
Surfactants
Wax
By working closely with medical customers, Magnus is able to identify challenges and develop a broad range of cleaning machines that revolutionize the processing of medical components, including:
Compact, high-speed machines that accurately cut small, complex parts from tough materials.
Multi-Tasking and 5-axis machines that accelerate time to market at the lowest possible cost.
High-speed, high-performance spindles that produce superior surface finishes.
Machines that exceed the industry's growing demand for lean manufacturing and precision.
Advanced Solutions for prototyping up to high-volume production.
Manufacturing equipment that provides high levels of throughput and consistent quality.
Advanced CNC machine controls for faster 5-axis machining and superior part surface finishes.
Easy bar feeder or gantry loader integration for unattended machining operations.
Magnus Engineered Equipment manufactures equipment which utilizes 360-degree radial ultrasonics for cleaning medical and surgical needles. Prior to cutting into needles, continuous wire is cleaned with Magnus manufactured radial ultrasonic units at speeds up to 500 feet per minute.  The radial ultrasonic units clean the wire to the highest extent by producing 360-degree cavitation on the wire surfaces in the cleaning solution.  Equipment can be designed to handle single or multiple wires and it's compact form makes it readily adaptable to existing manufacturing operations.
Magnus Advantages for the Medical Industry
Experience – Since its beginnings in 1921, Magnus Engineered Equipment has firmly established itself as a world leader in the design and manufacture of industrial parts cleaning equipment utilizing specialized immersion cleaning technology. Magnus knows and understands all aspects of Energy Manufacturing parts cleaning and metal treatment and are experts at developing robust cleaning processes with consideration for material handling, automation, worker safety, environmental issues, and operating costs.
Specificity – Custom services are a major part of our engineering and manufacturing capabilities.  Our ability to adapt to your specific cleaning needs is unparalleled.  Magnus can address special process applications that go beyond conventional cleaning and deliver exceptional results. Assistance in evaluating your specific situation is available through one of our Energy Manufacturing specialists.
Reliability – Once installed, our machines provide years of reliable service. Magnus part washers are so durable there are many still in use after 30 years. From medical tools to titanium implants and everything in between, our engineering department can assist with all of your service and maintenance issues and help you make the most of your investment.
Service – Our systems are designed, manufactured and tested at our company headquarters located in Willoughby, OH USA.  The same experts who helped design your system are the people who service your system after the sale.  We know the efficiency of your production process can depend on our ability to respond to your inquiries.  Your success is our priority.