Magnus Engineered Equipment offers proprietary, proven solutions for efficient parts movement, rotary transfer, and inline cleaning processes designed to take advantage of your existing footprint. Our multi-disciplined team of engineer's design all electrical, hydraulic, mechanical, and pneumatic subsystems according to our strict standards and our multi-layered software platforms deliver machine diagnostics, troubleshooting, and production monitoring in one operator-friendly package. Capable of engineering semi or fully automatic, synchronous or non-synchronous operating modes, our flexible and durable cleaning equipment will provide a turn-key solution to meet your cleanliness needs.
Our manufacturing capability is unmatched in our industry. We design, fabricate, machine, weld, paint, assemble, and test all of our equipment under one roof by the most qualified technicians in the industry.  Our ERP software tracks every step of our manufacturing process and provides us with instant visibility of the progress we are making to meet our delivery promise.
When allocating precious financial resources to capital equipment acquisition, you can be assured of receiving well-built, modular equipment that will meet your parts cleaning needs both now and into the future. Past performance is the best indicator of future success – over the past forty years 95% of our customers, continue to rely on us for additional projects.
The list provided below highlights some of the additional features our engineered solutions provide.
Process
Multi-stage washing and rinsing process with hot-air, compressed-air, and vacuum drying
Agitation, spray, injection flood washing
Area-coverage cleaning due to immersion cleaning process
Parts baskets can be rotated, raised, and lowered in order to support the cleaning and drying effect
Custom programming of process sequences
Automatic dosing unit
Ultrasonics
Filtration systems
Settling tank
Material Handling
Conveyor unit configured to your throughput, part design, and footprint
Robotic mar-free parts handling
Innovative fixture design to hold proprietary parts
Pick and place pre or post-wash
Automatic parts basket placement and tracking
Multiple recipe programing
Electronic Control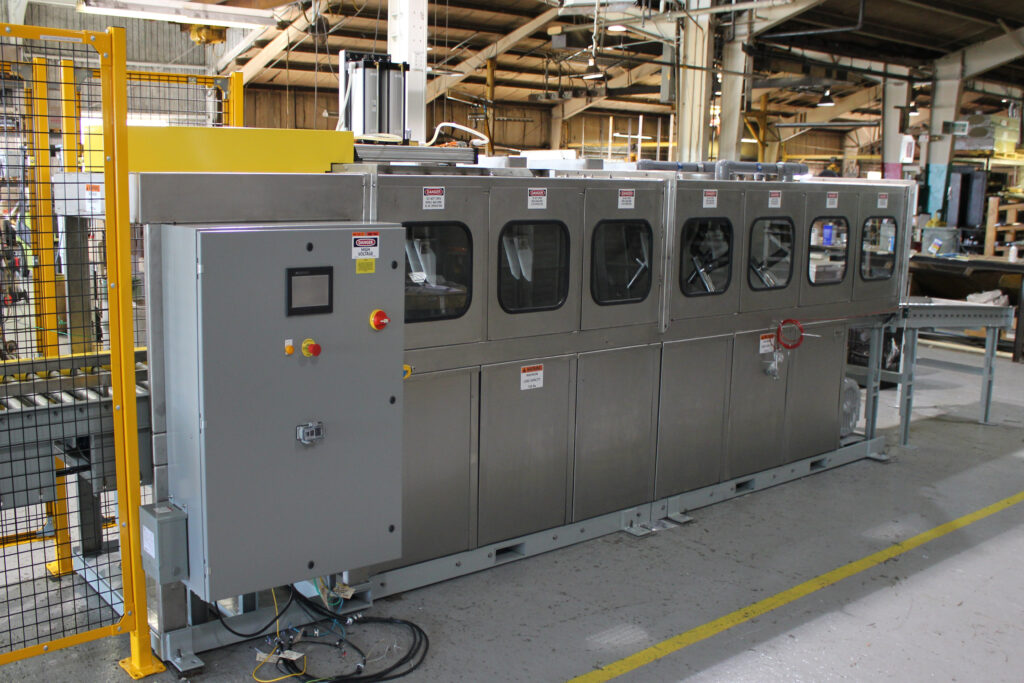 Error diagnosis via plain text display on operator control panel
PLC or CNC command
Siemens, Schneider, Indramat, Fanuc
Standard panel screens
Customized panel screen options
Other options available