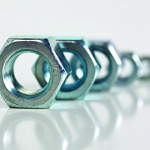 New fastener manufacturers worldwide use Magnus Engineered Equipment cleaning systems to clean fasteners for inspection and reconditioning. Particular emphasis is placed on particulate removal, rust prevention, and preserving part geometries. Our ability to adapt to your specific cleaning needs is unparalleled.  If one of our standard systems won't completely fit your needs, we work with you to engineer a custom design that will be the very best option to maximize your cleaning efficiency.   We specialize in immersion agitation washing using either water-based (detergent) cleaners or VOC compliant solvents (high flash point, low vapor pressure, & low toxicity). We also offer many options for the specific needs of fastener manufacturers.
---
Magnus Engineered Equipment is ideal for cleaning the following fasteners:
Blind Bolts
Blind Rivets
Compression Fittings
Expandable Diameter Fasteners
Ferrules
Grounding Studs
Hydraulic Fittings
Lock Bolts
Machine Screws
Nuts & Bolts
Panel Fasteners
Pipe Adapters
Pipe Couplings
Pipe Crosses
Pipe Elbows
Pipe Nipples
Pipe Reducers
Pipe Tees
Pneumatic Fittings
Quick Disconnects
Rivet Nuts
Shoulder Screws
Sleeves
Spacers & Standoffs
Threaded Rods
U-Bolts
Vacuum Fittings
Weld Fitting
Magnus Engineered Equipment is ideal for removing:
Alkaline residue
Aluminum oxide
Carbon
Coolant
Copper Oxide
Corrosive materials
Ferric Oxide
Fingerprints
Fluxes
Glues
Grease
Lapping compound
Lapping oil
Lubricants
Machine fines
Magnesium Oxide
Metal chips and fines
Oil
Organics
PO4
Rust Inhibiting Oils
Sand particulates
Shop Soils
Solvents
Surfactants
Wax
Parts can be washed on pin trays, in bulk containers, or "one at a time" in line as required by the geometry, soil, cleanliness requirement, and throughput volume of the part. Systems may be single stage "pre-wash" or chip removal units or complex multistage wash systems. Tough to remove chips are successfully removed by the powerful cleaning action of washers that are designed to rotate baskets or fixtures of parts while they are simultaneously raised and lowered "in and out" of the wash and rinse process stages. Fully automated load transfer is also available where required.
Fastener materials washed include (but not limited to): aluminum, alloy steels, brass, carbon steel, stainless steel, titanium, inconel alloys, and superalloys.
Magnus services Fastener industries served such as:
Automotive
Aerospace
Construction / Agriculture
Military / Defense
Medical
Energy
Firearms
Remanufacturing
Magnus Advantages for the Fastener Industry
Experience – Since its beginnings in 1921, Magnus Engineered Equipment has firmly established itself as a world leader in the design and manufacture of industrial parts cleaning equipment utilizing specialized immersion cleaning technology. Magnus knows and understands all aspects of Fastener cleaning and metal treatment and are experts at developing robust cleaning processes with consideration for material handling, automation, worker safety, environmental issues, and operating costs.
Specificity – Custom services are a major part of our engineering and manufacturing capabilities.  Our ability to adapt to your specific cleaning needs is unparalleled.  Magnus can address special process applications that go beyond conventional cleaning and deliver exceptional results. Assistance in evaluating your specific situation is available through one of our Fastener specialists.
Reliability – Once installed, our machines provide years of reliable service. Magnus part washers are so durable there are many still in use after 30 years. From precision locknuts to hydraulic hose couplings and everything in between, our engineering department can assist with all of your service and maintenance issues and help you make the most of your investment.
Service – Our systems are designed, manufactured and tested at our company headquarters located in Willoughby, OH USA.  The same experts who helped design your system are the people who service your system after the sale.  We know the efficiency of your production process can depend on our ability to respond to your inquiries.  Your success is our priority.